Baked Cauliflower Tots
Tips
Recipe Notes
Kids Can!
Cooking for a Crowd?
Tips
Recipe Notes
Texture will be best when freshly made.
When kids help make healthy food, they are more likely to try it. Show kids how to:
❁ wash veggies under cool running water.
❁ break off florets.
❁ sprinkle seasonings and cheese.
❁ measure and mix ingredients.
Click a link below if you need a version of this recipe that serves: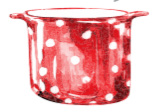 Ingredients
2 cups
grated cauliflower (about half a medium head)
1⁄4 cup
low-fat cheddar cheese, grated
Directions
Preheat oven to 400 degrees. Spray a baking sheet or line with parchment paper or foil.
Grate cauliflower on large holes of a grater. 
In a medium bowl, combine cauliflower, egg, flour, cheese, and salt; mix well. 
Press mixture together to make about 15 small balls or logs; Place on the baking sheet with space between each ball or log.
Bake for 20 minutes or until cooked through. For extra crispy tots, broil for an extra 2 minutes. Watch closely to avoid burning.
Refrigerate leftovers within 2 hours.
Notes
Texture will be best when freshly made.
Last updated: 06/09/17