Wheat Berry Salad
Cooking for a Crowd?
Click a link below if you need a version of this recipe that serves: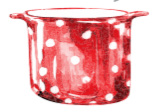 Ingredients
1 1⁄4 cups
carrots, peeled and diced
1 1⁄4 cups
red bell pepper, seeded and diced (about 2 small peppers)
1⁄2 cup
green onions, sliced
1⁄4 cup
fresh parsley, minced
1⁄2 cup
unseasoned rice vinegar
1 1⁄2 teaspoons
vegetable oil
1⁄2 teaspoon
garlic powder
Directions
Place dry wheat kernels in a large saucepan and add water to cover by 3 inches. Bring to a rolling boil, then reduce heat to a simmer. Cover and continue to simmer for 1 hour, or until the wheat kernels are tender but still chewy. Drain the cooked wheat berries and rinse with cold water. Place in a large mixing bowl.
Add the carrots, celery, bell pepper, onions and parsley to the wheat berries in the mixing bowl.
In a separate bowl, stir together the rice vinegar, water, vegetable oil, garlic powder and salt. Pour dressing over the salad and mix until salad is well coated.
Refrigerate leftovers within 2 hours.
Last updated: 09/17/18