Spring Green Salad
Notes
Video
Cooking for a Crowd?
Recipe Notes
Freeze extra lemon juice to use later.
Click a link below if you need a version of this recipe that serves: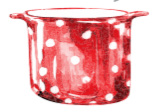 Ingredients
6 ounces
spinach (about 7 cups)
1 1⁄2 cups
strawberries, halved
1 cup
walnut pieces (toasted if desired)
2 Tablespoons
orange juice (juice from 1/4 orange)
1 teaspoon
finely chopped onion
Directions
Wash and dry spinach, tear into pieces, and chill.
To prepare orange: Cut off peel and membrane of outer part of the sections. Using a paring knife gently cut out sections from membrane edges. You end up with orange sections with no outer membrane.
To make dressing: Combine all ingredients in a jar and shake well or blend in a blender.
Right before serving, toss orange and strawberries with walnuts and spinach. Add dressing to coat salad. Serve immediately.
Refrigerate leftovers within 2 hours.
Notes
Freeze extra lemon juice to use later.
Last updated: 04/26/18
This nutrition information is an estimate based on federal food data. Your recipe may vary. Serving size follows FDA guidelines.