Cherry Oat Crumble
Cooking for a Crowd?
Click a link below if you need a version of this recipe that serves: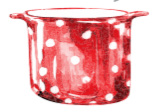 Ingredients
1 1⁄2 Tablespoons
cornstarch
4 cups
tart cherries, pitted, fresh or frozen
6 Tablespoons
whole wheat flour
6 Tablespoons
old fashioned rolled oats
3 Tablespoons
brown sugar
2 Tablespoons
butter or margarine, melted
Directions
1. Preheat the oven to 350° F.
2. Mix the sugar and cornstarch together in a large bowl. 
3. Add the cherries and stir to mix.  Add the vanilla and mix again. 
4. Pour the fruit into an 8 x 8 baking pan or 2 quart casserole.
5. In a separate bowl mix together the flour, oats, brown sugar, and salt. Add the melted butter and mix together until the texture is coarse with some clumps.  Distribute the oat topping over the fruit.
6. Bake in the preheated oven for about 30-45 minutes, or until the juices are bubbling and the oat toping is golden brown.
7. Refrigerate leftovers within 2 hours
Last updated: 09/12/18