Roasted Brussels Sprouts
Cooking for a crowd?
Click a link below if you need a version of this recipe that serves: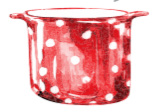 Ingredients
1 1⁄4 pounds
Brussels sprouts
1⁄8 teaspoon
black pepper
Directions
1. Preheat oven to 400 degrees F.
2. Wash and trim Brussels sprouts. Cut large Brussels sprouts in half from top to bottom; leave small Brussels sprouts whole.
3. In a large bowl, toss Brussels sprouts with the oil, salt, and pepper.
4. Place Brussels sprouts in a single layer on a large baking sheet.  Lining the baking sheet with foil or baking parchment will help with clean-up.
5. Roast for 20 to 30 minutes, stirring once after 10 to 15 minutes.  Sprouts should be tender and browned.
6. Remove from oven and drizzle with lemon juice.
7. Refrigerate leftovers within 2 hours.
Last updated: 06/09/17