Healthy Carrot Cake Cookies
Cooking for a Crowd?
Click a link below if you need a version of this recipe that serves: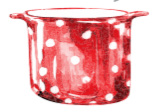 Ingredients
1⁄2 cup
packed brown sugar
1⁄2 cup
applesauce or fruit puree
1 teaspoon
ground cinnamon
1⁄2 teaspoon
ground nutmeg
1⁄2 teaspoon
ground ginger
2 cups
old fashioned rolled oats (raw)
1 1⁄2 cups
finely grated carrots (about 3 large carrots)
1 cup
raisins or golden raisins
Directions
Heat oven to 350 degrees.
In a large bowl, mix sugars, oil, applesauce, eggs, and vanilla thoroughly.
In a separate bowl, stir dry ingredients together.
Blend dry ingredients into wet mixture. Stir in raisins and carrots.
Drop by teaspoonfuls on greased baking sheet.
Bake 12 to 15 minutes until golden brown.
Store in airtight container.
Last updated: 09/12/18