Baked Tomatoes with Cheese
Cooking for a crowd?
Click a link below if you need a version of this recipe that serves: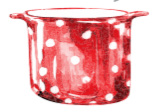 Ingredients
2
large tomatoes cut into thick slices (about 1 inch)
1⁄3 cup
shredded cheese (try parmesan, Swiss, or cheddar)
1⁄4 teaspoon
each salt and pepper
1⁄4 teaspoon
garlic powder (1 clove garlic, minced)
Directions
Preheat oven to 400 degrees. Place tomato slices in a single layer in a shallow baking dish.
In a small bowl, combine cheese, oregano, salt, pepper and garlic powder. Sprinkle mixture over tomatoes.
Bake 5 to 10 minutes, or until cheese turns golden brown and starts to bubble. Serve warm.
Refrigerate leftovers within 2 hours.
Last updated: 09/11/18