Popeye Power Smoothie
Licuado Poderoso de Popeye Rinde: 4 tazas
Tiempo de preparación: 10 minutos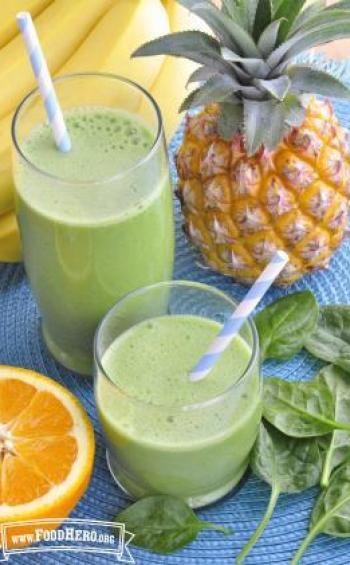 Ingredients
½ cup
low-fat plain or vanilla yogurt
1
banana, peeled and sliced
2 cups
fresh spinach leaves
Ingredientes
1 taza
de jugo de naranja
½ taza
de yogur de sabor natural o de vainilla", bajo en grasa o 1 recipience
1
Plátano, pelado y en tajadas
2 tazas
de hojas de espinacas frescas
Directions
Wash hands with soap and water.
Combine all ingredients in a blender.
Puree until completely smooth.
Serve immediately.
Refrigerate leftovers within 2 hours.
Preparación
1. Combine todos los ingredientes en una licuadora.
2. ​Mezclar bien hasta que quede suave. 3. Servir inmediatamente.
4. Refrigere lo que haya dentro en las próximas 2 horas.
Notes
For a thicker smoothie, use frozen fruit or vegetables instead of ice.
Use any type of juice, even juice from canned pineapple.
Notas
Para un batido más grueso, use fruta congelada.
Use cualquier tipo de jugo.