Sweet Carrot Bread or Muffins
Pan Dulce o Panecillos (muffins) de Zanahoria Makes:
Makes
12 slices or muffins Rinde: 12 rebanadas o panecillos
Tiempo de preparación: 20
Tiempo para cocinar: 60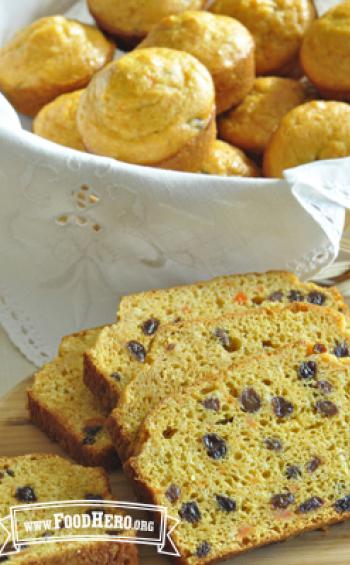 Ingredients
1 cup
sliced carrots (about 1 can (14.5 ounces) or 2 to 3 fresh carrots)
2 cups
baking mix (biscuit or pancake mix)
¾ cup
raisins or other dried fruit (optional)
Ingredientes
1 taza
de zanahorias rebanadas (aproximadamente 1 lata (14.5 onzas) o 2 a 3 zanahorias crudas)
⅔ taza
de azúcar morena lleno
1
huevo ligeramente batido
1 taza
de leche 1% o sin grasa
1 cucharadita
de canela en polvo
2 tazas
de mezcla de harina ya preparada (tipo biscuit o pancake mix)
¾ taza
de pasas o otras frutas secas (opcional)
Directions
Preheat oven to 350 degrees F. Lightly grease a 9x5 bread pan. If making muffins, lightly grease muffin tin.
Cook carrots until they are very soft.
Fresh - Steam or boil.
Frozen - Follow package directions or microwave, steam or boil.
Canned - Rinse and drain.
Mash carrots well with a fork or potato masher, or use a blender or food processer to puree until smooth.
In large bowl, mix carrots with brown sugar, egg and milk until well blended. Add remaining ingredients and mix well.
Pour batter into prepared bread pans or fill 12 muffin cups about 2/3 full.
Bake bread for 50 minutes or muffins for 18 to 20 minutes, until a toothpick inserted in center comes out clean.
Let cool slightly then remove from pans. Cool completely then store in an air-tight container at room temperature.
Preparación
Caliente el horno a 350 grados F. Prepare los recipientes para hornear. Si van a preparar el pan en forma de barra, utilice un recipiente de 9 x 5, unte ligeramente con aceite líquido o en espray. Si son panecillos (muffins) unte ligeramente con aceite líquido o en espray una bandeja para panecillos (muffins).
Cocine las zanahorias hasta que estén muy blandas.
Crudas - Cocer al vapor o hervir.
Congeladas - Siga las instrucciones del paquete, cocine en el microondas, cocine al vapor o hierva.
Enlatadas - Enjuague y escurra.
Machaque bien las zanahorias con un tenedor u otro utensilio para hacer puré de papa hasta que estén suaves. O use una licuadora hasta que queden como puré.
En un recipiente grande combine las zanahorias, la azúcar morena, el huevo y la leche, hasta que estén bien mezclados. Agregue el resto de los ingredientes y mezcle bien.
Ponga toda la mezcla en el recipiente para hornear si usan el recipiente en forma de barra, si son panecillos (muffins) ponga la mezcla en 12 moldes para panecillos (muffins) a solo 2/3 de su capacidad.
Hornee la barra por 50 minutos o los panecillos (muffins) por 18 a 20 minutos, o hasta que metiendo un palillo en el centro, salga limpio.
Déjelos enfriar y sáquelos de los moldes. Envuelva los sobrantes en un recipiente tapado herméticamente y déjelos a temperatura ambiente.
Notes
Try other seasonings such as pumpkin pie spice.
No baking mix? Use Food Hero Master Mix instead.
Notas
Pruebe otros condimentos como especias para pastel de calabaza.