Kids Can Help With Grilling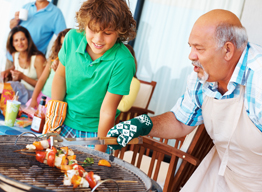 Kids Can Help With Grilling
When kids help create a grilled meal, they learn about grilling at the same time. Here are a few tasks to get kids involved in grilling:
Choose colorful veggies and fruits.
Wash the produce.
Cut produce (with an adults help).
Measure and mix marinades.
Carry serving plates.
Time the cooking.
Carry grilled foods to table.
Put away the leftovers.
See the Food Hero Cooking with Kids [1] tip for more ways to get kids in the kitchen.
Resources:
Chef For A Day
[2]
Last updated: 01/11/13