Start Out - Key Tips for All Ages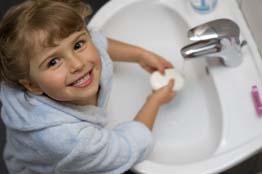 Start Out - Key Tips for All Ages
A quick guide for teaching kids of all ages how to help in the kitchen:
Be a healthy role model!
Remind your child to wash his or her hands

[1]

before touching food or eating.
Give your child a task that can be done with success.
Select a place where your child can do that task safely.
Break the task into steps that are easy to follow:

First show them how to do the step.
Then let them practice.
Don't expect perfection.
Be patient and allow extra time as they learn new skills.
Last updated: 03/07/13