Fun fact: we have more than 4,000 Food Hero Monthly email subscribers from more than 40 countries and all US states.
Background: The sign-up sheets are to be used for collecting email addresses of participants interested in receiving our Food Hero Monthly by email. Some participants will find the sign-up sheets more convienent than using our online sign-up: http://foodhero.org/monthly [2].
Instructions:
Print color copies of the Food Hero sign up sheets in your County or let the Food Hero Campus team know if you want us to send you copies. English and Spanish files are available below.
Clip the copies onto clipboards, with pens, to use/place on Food Hero event tables.
Display the sign-up sheets at family nights, community events, pantries, and more!
When you are able to, check to be sure participants email addresses are complete and readable while they are still at your event table.
If you provide an English and Spanish sign-up sheet know that If they sign up on the English sheet, they will receive the email in English, and vice versa. Put English on one clipboard, Spanish on another.
Right after an event scan and send a copy of lists you compile to food.hero@oregonstate.edu

[3]

. We will add those email addresses to our database to receive the monthly emails.
FAQ you may get:
How often will I get an email? Once per month.
Can I opt out? Yes, you can opt out at any time by clicking Unsubscribe at the bottom of an email.
What is in the email? A copy of the Food Hero monthly, which features the Featured Food of the month and a link to related recipes.
Can I later change the language I get the email in? Yes. In your Food Hero Monthly email, there is an option at the bottom to request to get it in another language. (Languages available: English and Spanish)
Files:
Food Hero Email Sign-Up Sheets
No need to wait for the new Monthly Magazine! New subscribers to Food Hero will automatically receive a welcome email like the one below.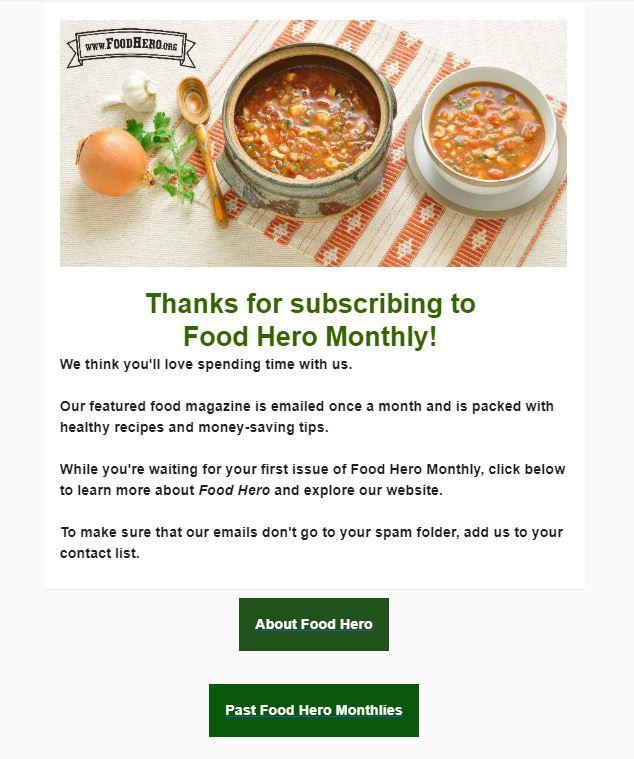 Last updated: 10/11/19