Family Friendly Recipes
Trying to make a meal that makes the whole family happy is not an easy task. Here are some other family-friendly recipes that everyone will love. Children can be picky. Try more kid-friendly recipes. We also have some great tips that can make the experience of cooking with kids a fun activity. By involving your kids in the meal preparation, they are more likely to want to eat the food - especially if they helped to make it!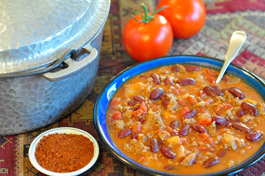 Almond Rice Pudding
Apple Bars
Applesauce French Toast
Asian Beef and Noodles
Carrot Pancakes
Chicken and Dumpling Casserole
Chili Cheese Hominy
Chinese Ramen Cabbage Salad
Corn Pancakes
Creamy Fruit Salad
Crunchy Chicken Nuggets
Family meals at dinner, lunch or breakfast
It also really helps to create significant and special family time during dinner. Set aside a regular time for dinner, where the whole family gathers and eats around the table together. Make sure the TV is off, and that other distractions are put away. Family meal time is a great way you can help to create strong bonds between family members. It might seem like a small thing, but often small adjustments lead to big results. You might also enjoy some dinner, lunch or breakfast recipes.
Last updated: 10/17/13