Use Your Refrigerator and Freezer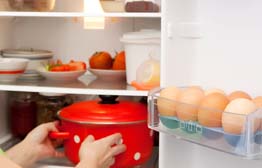 Use Your Refrigerator and Freezer
Keep a constant refrigerator temperature between 32 degrees and 40 degrees.
Keep your freezer temperature at 0 degrees or below.
Use a refrigerator/freezer thermometer to check the temperatures. A thermometer like the one shown in the photo to the right can be purchased for a few dollars.
Don't overstuff your refrigerator. Cool air must be able to move around to keep food at a safe temperature.
Refrigerate meat, poultry, fish and other perishables as soon as you get them home from the store. Never leave them at room temperature for more than 2 hours. If you won't be cooking them within 2 days, freeze them.
Always marinate food in the refrigerator.
To keep packed lunches cold at school or work, include a small frozen gel pack or frozen juice box. Refrigerate your lunch if possible.
Last updated: 04/03/13