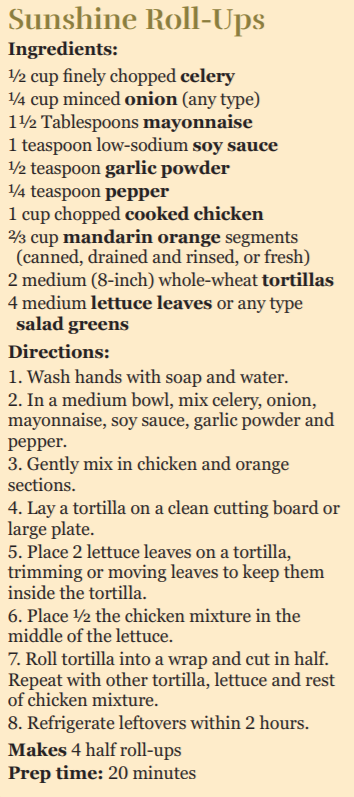 Ingredients:
½ cup finely chopped celery
¼ cup minced onion (any type)
1½ Tablespoons mayonnaise
1 teaspoon low-sodium soy sauce
½ teaspoon garlic powder
¼ teaspoon pepper
1 cup chopped cooked chicken
⅔ cup mandarin orange segments (canned, drained and rinsed, or fresh)
2 medium (8-inch) whole-wheat tortillas
4 medium lettuce leaves or any type salad greens
Directions:
1. Wash hands with soap and water.
2. In a medium bowl, mix celery, onion, mayonnaise, soy sauce, garlic powder and pepper.
3. Gently mix in chicken and orange sections.
4. Lay a tortilla on a clean cutting board or large plate.
5. Place 2 lettuce leaves on a tortilla, trimming or moving leaves to keep them inside the tortilla.
6. Place ½ the chicken mixture in the middle of the lettuce.
7. Roll tortilla into a wrap and cut in half. Repeat with other tortilla, lettuce and rest of chicken mixture.
8. Refrigerate leftovers within 2 hours.
Makes 4 half roll-ups
Prep time: 20 minutes