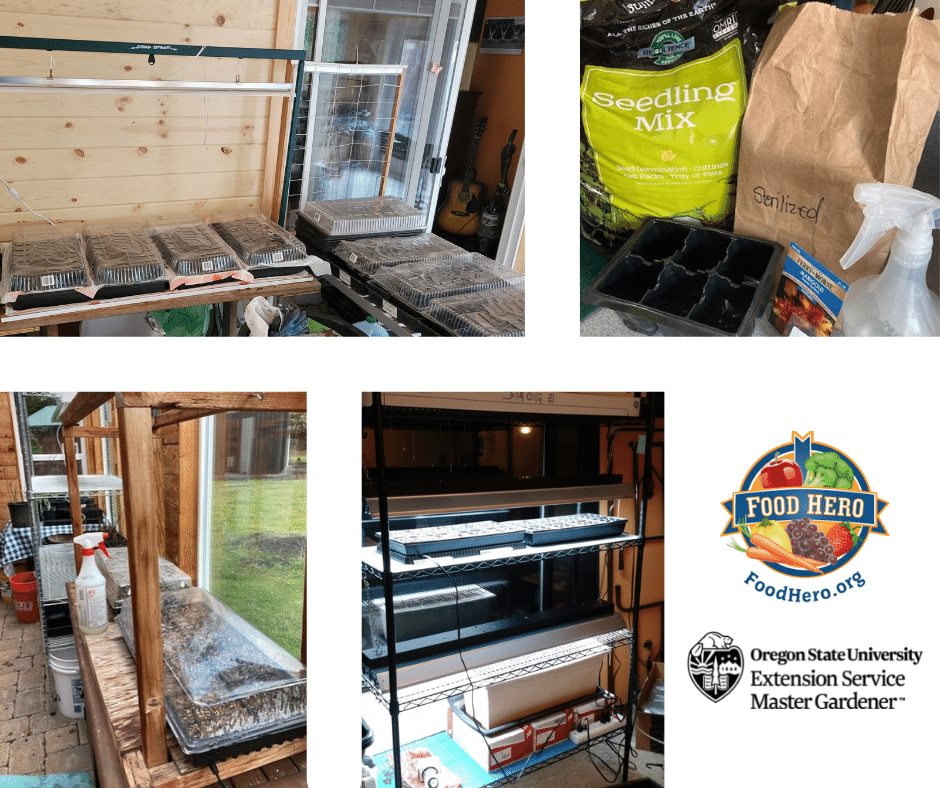 Ready to start your seeds from the Grow This! Oregon Garden Challenge? Learn from these tips and insights from OSU Extension Master Gardener volunteers.
Carol W. in Benton County: The first week in March I plan to start half the cilantro, bunching onions, kale, zinnia and mesclun inside on a table on a heated mat and with a shop light above.  Will try planting the remaining seeds outside later in spring.  Jessie M. in Coos County: I'll start kale, bunching onions, zinnia, and marigold in early March. I save black plastic pots and sterilize them in a solution of one part household bleach to nine parts water. I let them soak for 10 minutes at a minimum, and then wash them and rinse them.  I use a soilless seed starting mix. Seeds have all the nutrition they need inside them to get them to sprout, so no need to put them in fertile soil (it only feeds the pathogens as well!). I like to start many seeds inside because I can put them out when the plants are larger and better able to withstand the snails and slugs in the garden. I usually don't transplant them outside until early May when the soil has warmed and the danger of frost is past.
Tip: If you plant a lot of bunching onions inside in one pot, wait until they get about as thick as a pencil, and then water them well and very, very carefully tease them apart for transplanting outside.
Kathy A. in Benton County: I've started kale, cilantro, some bunching onions and mesclun mix inside. Since only one of us likes cilantro I'm going try them as microgreens. So far so good. I don't have much room inside (and we have a mischievous puppy) so the remainder of the seeds I'll plant in the garden when the weather cooperates.
Marty R. in Washington County: Over the next few weeks, I'll be starting onions, kale, cilantro and mesclun mix for the challenge. I share my property with a lot of birds so have to set out robust transplants for almost everything. Direct seeding in the garden results in a bird buffet! I've been trying out pelleted seeds, a little more expensive but useful in my situation with so much container seed starting. I'm eager to try the coated seeds we've received. I start seeds in an unheated shed under grow lights on a timer and thermostat-controlled heat mats. I also participated in the 14-day Microgreens Challenge and tried soilless growing of beet greens on a coir mat in a sunny window.
Don L. in Linn County: I started the cool weather plants like lettuce which will be transplanted into raised beds under a row cover when spring is really here.
Julie M. in Lincoln County: I will be starting my onions in a couple weeks on heat pads in my greenhouse.
Joanne C. in Lane County: I planted my Grow This! seeds as microgreens. Mesclun mix, cilantro and bunching onions- all have come up.
Val D. in Josephine County: I already started lettuce and onions. I start under shop lights in a rather warm room, on a table that has a heat mat with thermostat. I usually can get away with early starting because I take a couple of weeks hardening off the starts. Then when I plant outside I put two spun fiber row covers over the starts until it warms up outside. In March I'll start cool weather plants like kale, more lettuce, and herbs with the same method. I've had good success with the simple indoor setup--inexpensive and easy to set up.
Have questions about how to start transplants with your Grow This! Challenge seeds? Check in with your local Master Gardener Program for personalized advice!
Photos of seed starting setups contributed by (clockwise from top left): Ursula K. (Washington Co.), Jessie M. (Coos Co.), Allen M. (Columbia Co.) and Deb S. (Lane Co.).