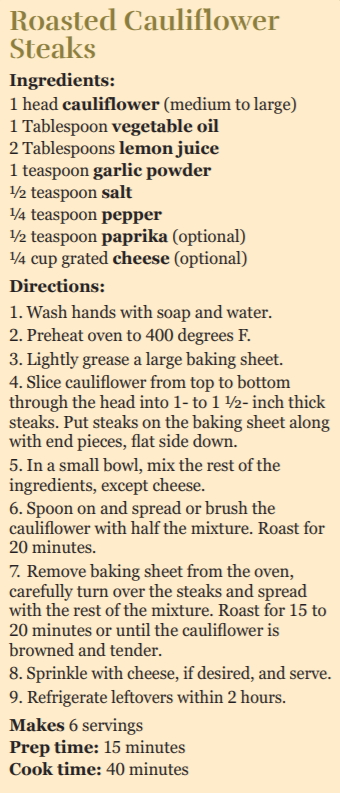 Ingredients:
1 head cauliflower (medium to large)
1 Tablespoon vegetable oil
2 Tablespoons lemon juice
1 teaspoon garlic powder
½ teaspoon salt
¼ teaspoon pepper
½ teaspoon paprika (optional)
¼ cup grated cheese (optional)
Directions:
1. Wash hands with soap and water.
2. Preheat oven to 400 degrees F.
3. Lightly grease a large baking sheet.
4. Slice cauliflower from top to bottom through the head into 1- to 1 ½- inch thick steaks. Put steaks on the baking sheet along with end pieces, flat side down.
5. In a small bowl, mix the rest of the ingredients, except cheese.
6. Spoon on and spread or brush the cauliflower with half the mixture. Roast for 20 minutes.
7. Remove baking sheet from the oven, carefully turn over the steaks and spread with the rest of the mixture. Roast for 15 to 20 minutes or until the cauliflower is browned and tender.
8. Sprinkle with cheese, if desired, and serve.
9. Refrigerate leftovers within 2 hours. 
Makes 6 servings
Prep time: 15 minutes
Cook time: 40 minutes