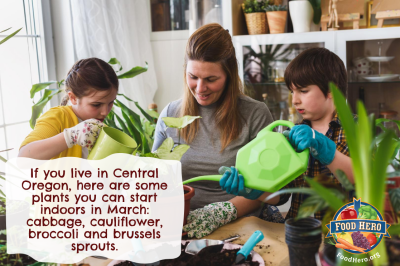 1-Mar
March is here, so it's time to start thinking about your garden! Here is what your garden needs: • seeds • soil • sunlight: check your seed packets to see how much sunlight your plants need • water • space: each plant needs the correct amount of space above and beneath it for growth #Growthis
2-Mar
Don't worry if you don't have a ton of room for a garden! You can grow plants in containers in a window, on a porch or anywhere sunny! #Growthis! #gardening #gardeningtips
4-Mar
If you are unsure if you need to add anything to your soil, a simple soil test can tell you if anything is missing. Call your local OSU extension office to talk to a local Master Gardener about soil testing.
6-Mar
March is a great time to add compost to your garden bed!
8-Mar
Walking on a garden bed presses down the soil. That can make it too hard (like a brick!) for roots to get through.
9-Mar
If you live in Central Oregon, here are some plants you can start indoors in March: cabbage, cauliflower, broccoli and brussels sprouts.
11-Mar
Start saving everyday items to help you garden in April. Upcycling not only helps with reducing waste but also saves money! Yogurt containers and toilet paper rolls are great items to save.
13-Mar
If you live in Western Oregon and your soil is dry enough, here are some plants you can start outdoors in March: carrots, beets, broccoli, leeks, parsley, chives, onions, rhubarb, peas, radishes and strawberries.
15-Mar
Check out how to make your own soil at home with food scraps! #Growthis! #gardening #gardeningtips
17-Mar
Plants that you started indoors then transplanted into your garden may be a bit sensitive the first week they live outside. Therefore, pay close attention to them and be sure to cover them if the temperature drops. #gardeningtips #growthis #gardening
18-Mar
Check your garden for slugs! They are easy to find at night with a flashlight.
19-Mar
Depending on where you live in Oregon, you should consider planting peas soon! Peas are hardy plants that enjoy cool weather, and if you start them early you can grow more in your garden space. Remember, if there is a frost after you planted, you will need to cover your peas.
22-Mar
Try making your own plant pots with paper scraps from home! Watch our video on how to do it! #Growthis! #learntogarden #gardening
24-Mar
If you have the space and a sunny window or grow lamp, try getting a head start by planting seeds in a tray inside.
29-Mar
Do you know where you are going to create your garden? Remember to pick a sunny, south-facing location that is close to a water source. #gardening #gardeningtips