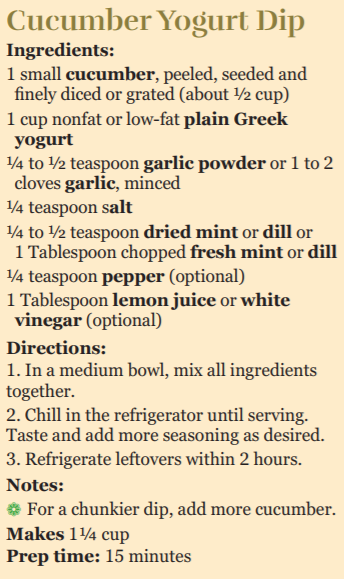 Ingredients:
1 small cucumber, peeled, seeded and finely diced or grated (about ½ cup)
1 cup nonfat or low-fat plain Greek yogurt
¼ to ½ teaspoon garlic powder or 1 to 2 cloves garlic, minced
¼ teaspoon salt
¼ to ½ teaspoon dried mint or dill or 1 Tablespoon chopped fresh mint or dill
¼ teaspoon pepper (optional)
1 Tablespoon lemon juice or white vinegar (optional)
Directions:
1. In a medium bowl, mix all ingredients together.
2. Chill in the refrigerator until serving. Taste and add more seasoning as desired.
3. Refrigerate leftovers within 2 hours.
Notes:
❁ For a chunkier dip, add more cucumber.
Makes 1¼ cup
Prep time: 15 minutes