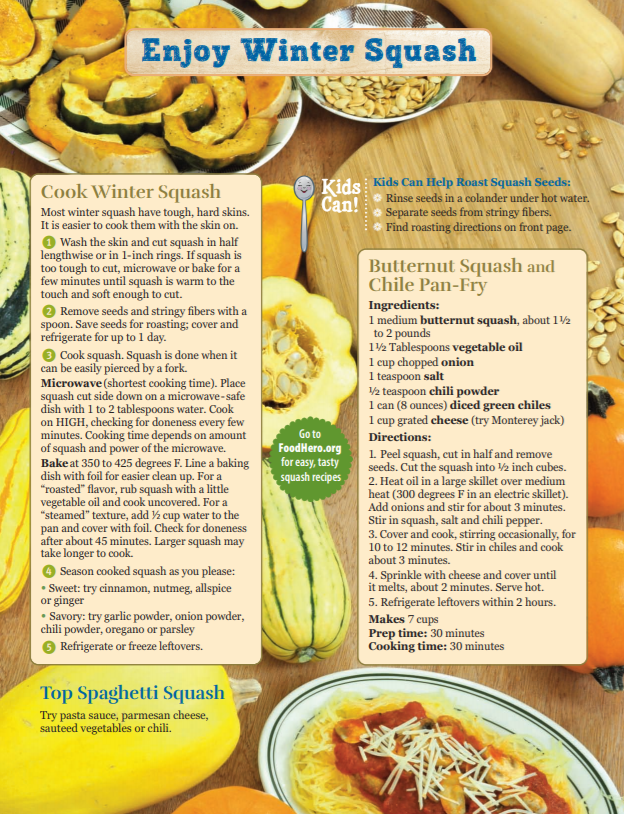 Most winter squash have tough, hard skins. It is easier to cook them with the skin on.
1 Wash the skin and cut squash in half lengthwise or in 1-inch rings. If squash is too tough to cut, microwave or bake for a few minutes until squash is warm to the touch and soft enough to cut.
2 Remove seeds and stringy fibers with a spoon. Save seeds for roasting; cover and refrigerate for up to 1 day.
3 Cook squash. Squash is done when it can be easily pierced by a fork.
Microwave (shortest cooking time). Place squash cut side down on a microwave-safe dish with 1 to 2 tablespoons water. Cook on HIGH, checking for doneness every few minutes. Cooking time depends on amount of squash and power of the microwave.
Bake at 350 to 425 degrees F. Line a baking dish with foil for easier clean up. For a "roasted" flavor, rub squash with a little vegetable oil and cook uncovered. For a "steamed" texture, add ½ cup water to the pan and cover with foil. Check for doneness after about 45 minutes. Larger squash may take longer to cook.
4 Season cooked squash as you please:
• Sweet: try cinnamon, nutmeg, allspice or ginger
• Savory: try garlic powder, onion powder, chili powder, oregano or parsley
5 Refrigerate or freeze leftovers.