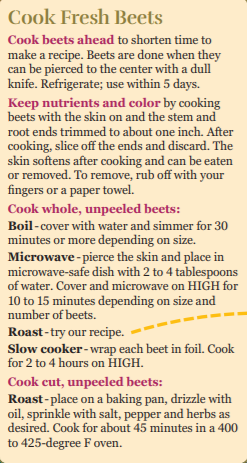 Cook beets ahead to shorten time to make a recipe. Beets are done when they can be pierced to the center with a dull knife. Refrigerate; use within 5 days.
Keep nutrients and color by cooking beets with the skin on and the stem and root ends trimmed to about one inch. After cooking, slice off the ends and discard. The skin softens after cooking and can be eaten or removed. To remove, rub off with your fingers or a paper towel.
Cook whole, unpeeled beets:
Boil- cover with water and simmer for 30 minutes or more depending on size.
Microwave- pierce the skin and place in microwave-safe dish with 2 to 4 tablespoons of water. Cover and microwave on HIGH for 10 to 15 minutes depending on size and number of beets.
Roast- try our recipe.
Slow cooker - wrap each beet in foil. Cook for 2 to 4 hours on HIGH.
Cook cut, unpeeled beets:
Roast- place on a baking pan, drizzle with oil, sprinkle with salt, pepper and herbs as desired. Cook for about 45 minutes in a 400 to 425-degree F oven.