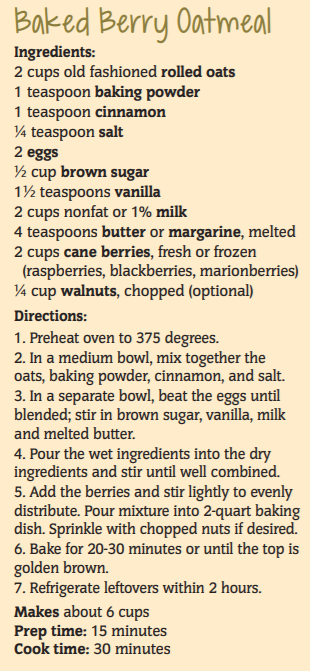 Ingredients:
2 cups old fashioned rolled oats
1 teaspoon baking powder
1 teaspoon cinnamon
¼ teaspoon salt
2 eggs
½ cup brown sugar
1½ teaspoons vanilla
2 cups nonfat or 1% milk
4 teaspoons butter or margarine, melted
2 cups cane berries, fresh or frozen (raspberries, blackberries, marionberries)
¼ cup walnuts, chopped (optional)
Directions:
1. Preheat oven to 375 degrees.
2. In a medium bowl, mix together the oats, baking powder, cinnamon, and salt.
3. In a separate bowl, beat the eggs until blended; stir in brown sugar, vanilla, milk and melted butter.
4. Pour the wet ingredients into the dry ingredients and stir until well combined.
5. Add the berries and stir lightly to evenly distribute. Pour mixture into 2-quart baking dish. Sprinkle with chopped nuts if desired.
6. Bake for 20-30 minutes or until the top is golden brown.
7. Refrigerate leftovers within 2 hours.
Makes about 6 cups
Prep time: 15 minutes
Cook time: 30 minutes