Breakfast Pumpkin Cookies
Cooking for a Crowd?
Click a link below if you need a version of this recipe that serves: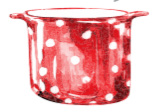 Ingredients
1 3⁄4 cups
cooked, pureed pumpkin (15 ounce can)
1 1⁄4 cups
whole wheat flour
1 Tablespoon
baking powder
1⁄4 teaspoon
ground ginger
1 cup
walnuts or hazelnuts, chopped
Directions
Preheat oven to 400 degrees F.
Mix pumpkin, brown sugar, eggs, and oil thoroughly.
Blend dry ingredients and add to pumpkin mixture.
Add raisins and nuts.
Drop by teaspoonfuls on greased baking sheet, 1 inch apart.
Gently flatten each cookie (use a spoon, bottom of glass, or palm of your hand).
Bake 10-12 minutes until golden brown.
Last updated: 03/15/18
This nutrition information is an estimate based on federal food data. Your recipe may vary. Serving size follows FDA guidelines.