Blueberry Bling
Cooking for a Crowd?
Click a link below if you need a version of this recipe that serves: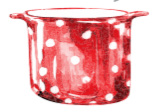 Ingredients
3 cups
frozen or fresh blueberries
2 teaspoons
margarine, softened
1 Tablespoon
all-purpose flour
1⁄2 cup
old fashioned rolled oats
Directions
Preheat the oven to 375 degrees F.
Place frozen blueberries in a 9-inch pie plate. If using fresh blueberries, wash and drain before placing in a 9-inch pie plate.
In a small bowl, use a fork to mix margarine, flour, sugar, oats and cinnamon.
Sprinkle oat mixture over the blueberries.
Bake for about 25 minutes. Enjoy while warm!
Refrigerate leftovers within 2 hours.
Last updated: 09/11/18