Picky Eaters
Do any of the sentences below remind you of your child?
"Michael won't eat anything green!"

"Ebony will only eat peanut butter sandwiches!"

"Maria won't sit still at the table long enough to eat a meal!"
If so, you're not alone. Picky eating is common for many children.
If your child is a picky eater but is healthy, growing normally, and has plenty of energy, he or she is most likely getting plenty of nutrients. If you have concerns, talk to your child's doctor.
This tip gives ideas for :
Work with Picky Eaters
Things you can do at mealtime to help your child try new foods
Adapted from the United States Department of Agriculture, Food and Nutrition Service handout "Picky Eaters."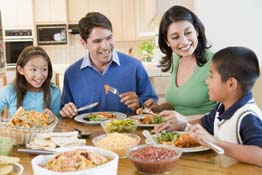 Picky eating can be a sign that your child is uneasy about new things, or showing his or her independence. Helping your child to welcome new foods can:
Lower your child's fears about other types of new things. Help your child to view new things as adventures.
Help you resolve other parent-child conflicts. When you succeed in solving conflicts over food, you learn how to work out other problems that may come along.
Set in place healthy eating habits that last a lifetime. Help your child grow into an adult who likes many different healthy foods.
Mealtime Strategies
Prepare Your Child to Welcome New Foods
Read more »